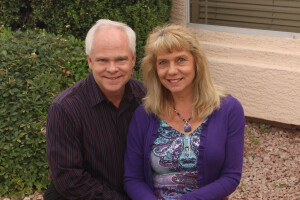 David Monk
David is the primary teacher at Heritage of Faith Family Church. His strives to be both theologically precise and relational. He believes that anchoring our lives firmly on God should lead us to a vibrant relationship with a loving God who is truly good. David also has a passion for inspiring families to raise an anointed generation for God. He supervises the church library, church-wide events, coordinates missions activities, oversees the church website, and manages a variety of corporate affairs. David currently works for a large local electronics firm in addition to his work with Heritage of Faith Family Church.
David has sensed God's hand on him since he was a young boy. He received Christ and was baptized at 6 years old at his Southern Baptist church in Glendale, Arizona. During his high-school years, David found many answers for his questioning mind in the writings of Francis Schaefer and C.S. Lewis. At about the same time, David's father resigned his post as a deacon in the Baptist church to join a "spirit filled" church where he soon became a long-time member of the leadership. During this time, David was introduced to this young "charismatic" movement. He personally experienced the filling of the Holy Spirit is his own life and was deeply influenced by the teaching of pastor Jack Hayford and his own pastor at Valley Cathedral - Donald Price. In 1991, God took the Monk family in an unexpected direction when he and Valerie were introduced to homeschooling for the first time. The rich family vision took deep roots and God led them into ministry opportunities with Arizona Families for Home Education and other family-centered organizations over the next 20 years. David continues to study what God is doing in churches across the country and loves studying God's Word.
David attended Phoenix Christian High School, married his high-school sweetheart, Valerie, and attended Arizona State University and the University of New Mexico graduating with a BS in Physics and MS in Electrical Engineering. God has blessed David and Valerie with 11 children (ages 31 to 8 years) and three grandchildren. Their oldest, Jessica, graduated from ASU and serves as the church's administrative assistant. She and her husband recently celebrated the birth of their first child. Natalie graduated from ASU first in Nursing, then as a Nurse Practitioner. She currently serves God in medical missions in Mozambique with iReachAfrica. Stephanie graduated from Patrick Henry College, and she and her husband have two beautiful children. She currently works from home as a professional editor while her husband completes his graduate studies. The three oldest sons are serving God in widely different fields. Jonathan is a full-time machinist, Gregory, also a graduate of Patrick Henry College, is a data analysist, and Philip works as a software engineer. Victoria is currently studying elementary education at Grand Canyon University, and David is preparing to begin his studies at ASU to become an engineer. The wide diversity of callings in the Monk family reflect their commitment to take the kingdom of God to all aspects of the culture. After 26 years of homeschooling, they are still enjoying homeschooling their four youngest children.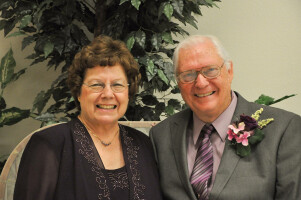 Stan Hodges
Stan serves Heritage of Faith Family church as an elder and corporate treasurer. He and his wife, Pauline, share a passion for prayer and serving the body of Christ in practical and meaningful ways. They serve faithfully as prayer team members and love nothing better than to minister to their brothers and sisters in prayer and see them set free, healed, and blessed by the love of God. Stan is one of the regular teachers at Heritage of Faith, and he and Pauline are committed to prayer and intercession for each family at Heritage of Faith.
Although not raised in church, Stan was aware that God had a purpose on his life even as a boy. In 1976 Stan accepted that call, was saved at the age of 28, and never looked back. He fell in love right away with the church family and didn't miss a single Sunday for more than five years. He grew in the Lord and was baptized in the Holy Spirit during the Charismatic Renewal. Experiencing the ministry of Bob Mumphert, Derrick Prince, and Charles Simpson, Stan and Pauline witnessed the power of God many times, but especially when their two daughters were miraculously healed of asthma and a severe eyesight problem. As a family Stan, Pauline and their two daughters worked in street and prison evangelism and saw the hand of God at work in powerful ways. From the beginning of his walk with God, Stan has also had the privilege of serving in church leadership. These positions included teaching adult Sunday School classes, serving as a baptizing elder for many years under Donald Price at Valley Cathedral, and ministering for years with Pauline as a prayer team with Cleansing Stream Ministries.
Stan and Pauline married in 1960 and have two wonderful daughters, Valerie and Christine. They have fourteen grandchildren, and three great-grandchildren! Stan has worked primarily in instrumentation repair and mechanical design during his career, and for the last ten years has worked for Intercostal Electronics in Mesa as a machinist. Stan has seen the Lord's hand on his work whether in the shop or at church all his life and has years of experience in seeing God lead him and provide for every need. Stan loves nothing better than to testify to the faithfulness God has shown him and worship God for his goodness.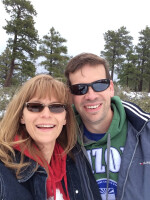 Bob Varadin
Robert (Bob) Varadin has been married to Mary Grace for almost 21 years. Mary Grace and Bob have been blessed by God with 7 children, Grace, Eddie, Andrew, Anna Marie, Joy, Hope, and Isaac. Both Mary Grace and Robert were born and raised in small towns in North East Missouri which explains why we are a "show me" type of family. Bob has worked in the semiconductor electronics industry for 19 years and Intel for 12 years. Bob holds bachelor and master's degrees in chemical engineering and business from ASU and University of Missouri-Rolla (MST). Bob grew up Catholic, was baptized in the Baptist faith shortly after coming to Arizona, and joined HOFFC in April 2013. While worshiping in a Baptist church in Scottsdale, Bob served as a deacon, Awana teacher, youth camp worker, and a Bible study leader. Currently Bob ministers in Boy Scouts Troop 7 Sun Valley Tempe and leads the Youth Financial Study. At home, Mary Grace and Bob homeschool their 7 children (mainly Mary Grace), but Bob leads evening Bible worship where as a family they read through the Bible over the course of the year. In 2017, this will mark the 7th year of reading the Bible from Genesis to Revelation for the Varadin family.
Jeff grew up as a military kid during his school age years where he moved every 2 – 3 years in the county of Germany. Jeff's dad retired from the military after 21 years during his sophomore year in high school and moved the family back to the USA to a small town in Lansing, KS. During Jeff's junior year in high school he accepted Jesus Christ as his Lord and Savior. His life has never been the same.
After graduating high school, Jeff moved to Manhattan, KS to attend Kansas State University where he graduated with a B.S. in Hotel & Restaurant Management and a minor in Accounting. Jeff's career moved him to Wichita, KS where he started to find his calling in leading small groups and teaching God's word. He started out as a small group leader for singles (20 Something). He also discipled new Christians on their journey of faith with God. Jeff was involved with Crown Financial Ministries and Hospitals of Hope (a medical mission organization) where he served as a board member and corporate treasurer. His involvement with HOH led him on two mission trips to Bolivia, South America where he served the indigenous people by showing Christ's love by healing bodies and souls.
Jeff met the love of his life Laura during his involvement with the 20 Something singles group. They married in 2000. After having three kids of their own, God led Laura and Jeff to become foster and adoptive parents. After eight years and counting, they have had 14 foster kids live in their home. Three of those kids they have adopted and call them their own. They enjoy the challenges and blessings of being foster parents and are following God's lead and are open to fostering/adopting more children.
Jeff and Laura have homeschooled their biological children from the very beginning. As far as their adoptive children, they have gone to public school for a few years to help them with their specific learning needs. Currently all children are learning at home.
Jeff serves the HOFFC family as teacher, elder and corporate secretary. He enjoys serving the families of the church and watching the families grow in the Lord. Jeff enjoys spending time with his family and watching his children compete in various sports. Jeff currently works as a district sales manager for a chemical company that supplies cleaning equipment and products to the hospitality industry.